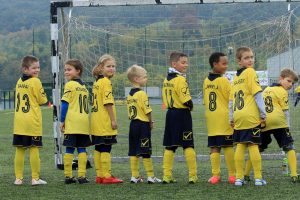 CITY PARK (VÁROSLIGET) – June 19- 23 and June 26-30. 2017
Football camp during the Smmer in the heart of Budapest from year 7, where the children besides football can even practice their English skills as well. How can it be possible? The camp is organised by the Future Stars FC, which is a club founded by Steve Yeboah, a football trainer, who played football in the Leeds United junior team in his teenager years, than later he got his UEFA B licence in Ireland. Steve lives in Hungary since many years, so with those kids who doesn't speak English can talk in Hungarian as well if necessary.
Date: First week: June 19-23. Second week: June 26-30.
Program:
Training in the Városliget football field (corner of Dózsa György út and Ajtósi Dürer fasor) all five days.
One visit during the week to the Orczy Adventurepark
One visit during the week to the Laserpark Budapest
Registration fee includes:
Supervision all day long (3 professional trainers.)
Entree fee to the Városliget football field.
1 Future Stars FC T-shirt in the size of the child.
Two meals daily (lunch, and afternoon snack) + water and fruit juice during the day.
1 entry fee to the Orczy Adventure Park
1 entry to the Laserpark Budapest
Camp Registration Fee:
29 900 HUF/week
Future Stars FC members 27 500 HUF/week
How to register?:
Fill out the registration form below
Transfer to the following bank account the registration fee within 3 working days. Bank account: 1620021617062462 (Magnet Bank)
REGISTRATION FORM:
The városligeti football camp is SOLD OUT for both weeks, but we still have places at Balatonszemes football camp from 9-13 Aug. Check out that for more details: bit.ly/2qL7xYb
Please download, fill out, sign and bring with yourself to the camp the parent statement below:
Contact us for more info:
Mobile:  +36 70 556 0270 (Steve Yeboah)
E-mail: info@futurestars.hu